The Journal of Engineering and Exact Sciences
OLD TITLE: ISSN 2446-9416 - Journal of Chemical Engineering and Chemistry)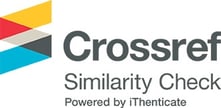 Please note that all the papers submitted to JCEC, after revision and prior to acceptance, will be checked with iThenticate, a powerful plagiarism detection software, in order to guarantee the quality of papers being published in JCEC. The papers with 20% or more similarities with any other published journal papers will be rejected.

This work is licensed under a Creative Commons Attribution-NonCommercial-ShareAlike 4.0 International License.
DOI®number

Each paper published in eISSN 2527-1075 - The Journal of Engineering and
Exact Sciences is assigned a DOI®number, which appears beneath the author's
affiliation in the published paper. Click HERE (http://www.crossref.org/) to
know what is DOI (Digital Object Identifier)? Click HERE to retrieve Digital
Object Identifiers (DOIs) for journal articles, books, and chapters.